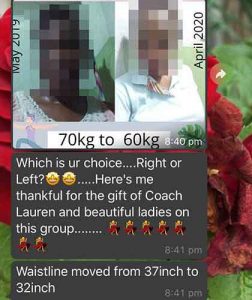 She is one of our amiable friends and students that have explored our weight loss programme.
Her message shared with us on WhatsApp highlights how happy she had become after the programme. In few months, she is looking Extremely different and gorgeous, with an enviable health.
Basically, our programme is not a rigorous one that makes you feel like you are suffering and punishing yourself so hard all because you want to lose weight.
It is a gradual reduction that happens in months with focus on what you eat more than exercise.
A combination of these two (food and minimal exercise) gives our students an outstanding result.
The food plan we offer for weight loss are based on researches on these food items and results that they bring.
We had been saddened by issues that go with weight loss and if the warning of the World Health Organization is anything to go by, excess weight is something anyone must not carry.
Leading Cause Of Death
Our concern is based on the fact that the leading causes of death, as indicated by WHO, are avoidable.
According to WHO, heart disease and stroke, which in most cases are life-style related, are leading.
---
---
Interestingly, you can stay within your Body Mass Index (BMI) and forget the axiom that "being big runs in our family".
Truly, what really runs in your family is the eating habit and you need to address that.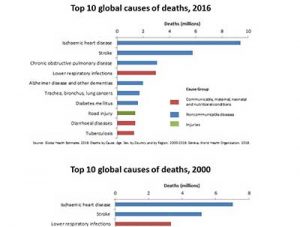 Sadly also, weight gain could reduce a woman's chances of conception. Staying within your BMI is truly one of the best gifts you can give to your body.
Weight loss is easy if only you care enough to know what to do to lose the weight that burdens your organs.
Most of the foods we recommend are available in Nigeria and are easily accessible.
We truly wish above all things that everyone will be in good health.
We love you. Stay Safe in this Covid-19 era.
Find More on our Instagram