It is World Malaria Day and the World Health Organisation (WHO) says it plans to end malaria transmission in 25 more countries by 2025.
Apparently, this will mark an end to the pains and anguish, as malaria kills children and adults.
Although, it gets low attention amidst COVID-19 pandemic, it is a killer disease that ravages most countries in the tropics.
It keeps killing people year-in year-out and Africa has most cases.
Unfortunately, Nigeria is still carrying this malaria burden. Although, there are reports of a decline in the prevalence rate, the nation still has so much work to do.
In WHO's new report, the cases of malaria in 2019 is shocking.
According to the report published in November 2020, there was an estimated 229 million cases of malaria and 409,000 malaria-related deaths in 87 countries.
Sadly, children under the age of 5 years in sub-Saharan Africa account for approximately two thirds (2 out of 3) of global deaths from malaria.
Each time 3 people die of malaria, two of them are Africans.
Nigeria is the most populous country in Africa and this means it will have a fair share of these figures.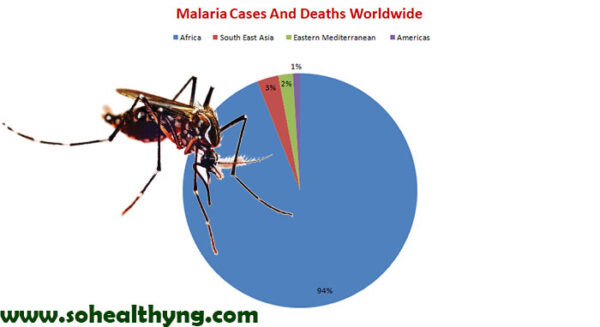 The WHO African Region shouldered 94% of all malaria cases and deaths worldwide in 2019.
About 3% of malaria cases in 2019 are in the WHO South-East Asia Region. Also, 2% were in the WHO Region for the Eastern Mediterranean.
The WHO Western Pacific Region and the WHO Region of the Americas each accounted for fewer than 1% of all cases.
Global Malaria Death Figures
There has to be a remedy somehow, as WHO continues to seek ways to end the deadly disease.
Every year, April 25 is World Malaria Day. It is a day set aside to raise awareness on malaria as a killer disease.
To mark this year's World Malaria Day, WHO shares a new initiative.
Basically, the aim is to end the transmission of malaria in 25 more countries by 2025.
Globally, there are 87 countries with malaria. Out of these countries 46 reported fewer than 10,000 cases of the disease in 2019 compared to 26 countries in 2000.
By the end of 2020, 24 countries had reported interrupting malaria transmission for 3 years or more. Of these, 11 were certified malaria-free by WHO.
Unfortunately, Nigeria is one of the countries with huge malaria burden.
---
Here Is Something You Should Know About
Taking Malaria Drug And Blood Tonic Together
---
In its 2021 World Malaria Day message, WHO said: "Many of the countries we are recognizing today carried, at one time, a very high burden of malaria.
"Their successes were hard-won and came only after decades of concerted action".
"Together, they have shown the world that malaria elimination is a viable goal for all countries," WHO Director-General, Dr Tedros Adhanom Ghebreyesus, said.
Major Drivers Of Zero Malaria Success
There are different things that must be in place for a nation to eradicate malaria totally.
WHO looks out for these variables.
Indeed, some of the basic things that propelled the results above are political will and a good health care system.
In a message on the World Malaria Day, the Director of the WHO Global Malaria Programme, Dr Pedro Alonso, said the "success is driven, first and foremost, by political commitment within a malaria-endemic country to end the disease".
Another propeller is domestic funding that is sustained over many decades.
Also, most countries that reach zero malaria have strong primary health care systems that ensure access to malaria prevention, diagnosis and treatment services, without financial hardship, for everyone living within their borders – regardless of nationality or legal status.
Other things are a robust data system and strong community engagement.
These things are very important for Nigeria to scale through the troubles of malaria.
When it does, the nation will join Algeria, Belize, Cabo Verde, China, El Salvador, the Islamic Republic of Iran, Malaysia and Paraguay; which all reported zero indigenous cases of human malaria by end of 2020.
Malaria Burden On Nigeria
While more and more children die in Nigeria, the oil-rich nation continues to seek ways of eradicating the disease.
Continually, finances go into the eradication plan, with a hope that one day, we will reach the zero mark.
In a statement on the nation's effort, shared to mark 2021 World Malaria Day, Nigeria's Health Minister, Dr Osagie Ehanire, said the government's strategic plan on combating Malaria would cost 1.89 trillion Naira.
---
---
According to him, Nigeria will need 352 billion Naira in 2021 alone.
Citing WHO's report on Malaria, the Health Minister said Nigeria recorded a drop in malaria prevalence from 42% in 2010 to 23% in 2018.
It is not clear if Nigeria is in the list of the countries that will have zero malaria by 2025.
However, Guatemala, Honduras, North Korea and Thailand are in the list.
While this countries make progress, you can also contribute to further reduction of malaria prevalence.
Basically, all you need to do is to give attention to our environment.
Also, when we do things right, we will reduce the chances of mosquitoes breeding near our homes.
Finally, keep yourself safe from malaria as much as you can by using mosquito nets or natural repellants.
MAKE THIS IMMUNE BOOSTER AT HOME