If it is your desire to live healthy and strong, Ajwain seeds should be part of your diet.
Unfortunately, not everyone knows about Ajwain (Carum copticum L). Indeed, it is one of the amazing plants that you can think of. It is popular in India, but it is also here in Nigeria.
It is easy to add to food.
Traditionally, Ajwain has been used in the past, especially in India, for various therapeutic effects.
The seeds are very nutritious and they offer longevity tendencies to people who consume it.
Ajwain seeds are the fruit of the Ajwain herb and they are slightly green to brown in color.
The seeds have a strong bitter taste and they look like cumin seeds. However, the seeds of Ajwain taste and smell almost like thyme.
Different Names Of Carum
Different names of the plant in various languages (vernacular name) are Sanskrit: Yamini, Assamese language: Jain and English: Bishop's weed.
Others are Hindi, Baluchi: Ajowan and Spirca, Gujarati Language: Ajmo, Canada: Oma, Malaysia: Oman, Arabic: Khella or khellin, Persian: nankhah, zenian, khordaneh, and South Khorasan: ajgho
Health Benefits Of Ajwain Seeds
This wonderful seed also contains different compounds in it.
Some of these are carbohydrates, glucosides, saponins and phenolic compounds (carvacrol) and volatile oils (thymol).
Others are terpiene, paracymene and beta-pinene, protein, fat, fiber, and minerals including calcium, phosphorus, iron, and nicotinic acid (niacin).
Below are the health benefits of Ajwain seeds that researches support.
1.      Remedy For Ulcer
One of the popular ailments that people come down with as a result of stress, influx of antibodies and more is ulcer.
Interestingly, a study showed this seed could treat ulcer.
According to the study, the alcoholic extract of the plant fruit had significant reduction effect in ulcer index in an animal model of gastric ulcer.
Also, aqueous extract of C. copticum (125, 250, and 500 mg/kg) treatment for two weeks improved peptic ulcer induced by ibuprofen in rats (1).
Furthermore, the study says the effect is comparable with the effect of omeprazole.
It also suggests that antiulcer effect of this plant is possibly due to its antioxidant effect.
However, the study suggests that low dose of this plant is what you need for treatment of peptic ulcer.
2.      Treat Abdominal Tumours
Also, due to the presence of antioxidants in the seed, it is able to inhibit the growth of cancer cells.
Some antioxidants in the seed are glucosides, saponins and phenolic compounds (carvacrol), volatile oils (thymol), terpiene, paracymene and beta-pinene.
However, a study identified carvacrol as a compound that inhibits DNA synthesis and decreases the number of cancer cells and total protein content (2).
---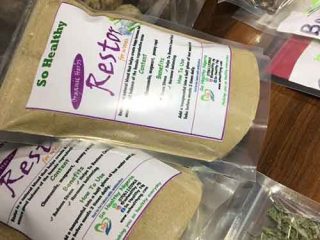 ---
According to another study, carvacrol has high antioxidant activity. Basically, it has been successfully used, mainly associated with thymol, as dietary phytoadditive to improve animal antioxidant status.
The anticancer properties of carvacrol have been reported in preclinical models of breast, liver, and lung carcinomas, acting on proapoptotic processes (3).
3.     Treat Respiratory Distress
Again, this same carvacrol (antioxidant) in Ajwain has been examined by different studies as remedy for respiratory issues.
Interestingly, this compound has relaxant effect on tracheal smooth muscle of guinea pigs.
Also, after examining the effect of oral administration of boiled extract from Ajwain and theophylline in asthmatic patients researchers say results suggest that this plant could be of therapeutic value as a drug in patients with obstructive airway diseases.
4.     Ajwain And Anti Fungal Effect
Also, a study recorded that ether fraction of C. copticum had better antifungal activity against multidrug resistant (MDR) strains of Candida albicans, Candida krusei, Candida tropicalis, Candida glabrata, Escherichia coli, and reference strains of Streptococcus mutans and Streptococcus bovis than other fractions (4).
People who have candida infection could add this to their diet and get relief.
5.      Antibacterial
According to the same study, an essential oil from Iranian C. copticum, including 72.3% thymol, inhibited gram-positive and gram-negative bacteria and viruses.
According to the study, inhibition rate is as a result of the thymol content.
---
---
Also, the study states that high dose of thymol inhibits gram-positive more than gram-negative bacteria.
The effect of aqueous extract of C. copticum on several strains of bacteria showed antibacterial effect on Enterococcus faecalis, Staphylococcus aureus, Escherichia coli, P. aeruginosa, S. typhimurium, and Shigella flexneri .
Again, the effect of C. copticum on 55 bacterial strains showed antimicrobial activity with minimum inhibitory concentration except Pseudomonas aeruginosa.
Another study highlights that this compound also exhibits antimicrobial, antioxidant, anticarcinogenesis, anti-inflammatory, and antispasmodic activities, as well as a potential as a growth enhancer and immunomodulator (5).
6.      Pain Relief
One of the benefits of adding this seed to your diet is that it can help relief pains.
A study says the essential oil from Ajwain affected the late phase of pain by formalin compared to morphine.
It is affective in treatment of rheumatic, joint, headache, and neuralgic pain.
7.      Ajwain Treats Liver Disease
In a study, researchers looked at the effect of the extract on liver enzymes.
Result suggests that both high and low doses of the extract increase liver enzymes.
Thurs, researchers recommend low dose of this plant for treatment of liver disorders (6).
8.      Ajwain Treats Malaria
Also, the study says Ajwain seed has a positive effect in handling Plasmodium falciparum, a genus of parasitic protozoa that causes malaria.
According to the study, extract of C. copticum seed also showed antimalarial activity.
If you live in Nigeria, treating malaria is one thing that is common. You should consider having these seeds at home if you treat malaria often.
9.     Hearth Health
This seeds are great for heart health.
According to a study, the thymol in Ajwain makes it play a remarkable role in heart rate and blood pressure.
According  to the study, thymol makes blood pressure fall.
Also, the study says methanolic extract of Ajwain significantly decreased total cholesterol, triglycerides, and LDL-cholesterol.
Furthermore, it stated that the extract also increased the good cholesterol HDL up to 60% (7).
One compound that has been linked to lowering of cholesterol is niacin (8).
10 Contraceptive Effect
According to a study, Carum was tested for abortion in some states of India in 1987.
The result of the study showed that the use of Carum seeds led to abortion in 50 cases of 75 pregnant women and possibly has fetotoxicity feature.
However, the possibility of congenital defect in this region of India increased during the study period. 
C. copticum dry seed has phytoestrogen content that can increase milk production (9).
Also, the study recorded that ethanolic extract of Ajwain seeds affects sperm motility.
According to the study, the oil extract on ejaculated human spermatozoa also resulted in reduction of sperm activity and pregnancy.
How To Use Ajwain Seeds
A study recommends you use 3 to 6 grams of the seed powder daily with food or by means of other ways.
Using it in powder form makes it more effective. In addition, it may be extracted or boiled and used.
Dried extract of C. copticum seeds can be consumed up to 125 mg daily.
Also, the liquid extract (tincture) can be also consumed up to 6 mL daily.
Any Negative Effects Of Ajwain Seeds?
The seed is relatively good for humans.
However, it is not safe for pregnant or nursing mothers, as it could have negative effect on the fetal health.
Any woman who is looking to conceive may not have to add this to her diet. it could make conception impossible.
If you find this helpful, kindly share with your friends and loved ones so they would know how beneficial Ajwain is to their health.