Description
Our natural seasoning was born out of a need for lifestyle adjustment. It began over 6 years ago.
When I, Lauren Osewezina, got a report of hormonal imbalance from my doctor, it became necessary to act fast.
Hormonal imbalance had started hindering conception and I needed to address the issue.
With a high prolactin, I know that it would be difficult to get pregnant. The doctor even confirmed it.
Afterwards, I then began to look at adjusting my diet. So, everything that goes into my body must pass through a checklist.
When I got to my seasoning cubes, what I found was mind blowing.
The findings gave birth to the natural seasoning we now have and offer to you.
Problem With Seasoning Cubes
In our earlier write up, we identified what these cubes contain and you may want to read that again. Click here to read it.
But in a nutshell, a cube contains at least 40% salt, sugar, flavour, soy beans, fat and some other things. Check the area in red box in the image below.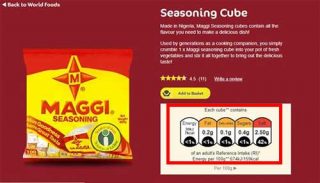 Eliminating seasoning cubes became necessary and I had to take them off and replace with my home made seasoning.
Interestingly, this decision really worked magic. So many things began to adjust in my body.
In no distant time all changed. I gave birth.
Content Of Our Natural Seasoning
After this experience, we decided to make this more available for some of the persons who take our coaching programmes.
Here, we offer it to everyone who wants to eliminate the troubles with MSG and preservatives that are often added to seasoning cubes.
MSG is used to intensify taste and boost the flavour in seasoning cheaply without adding extra salt.
See what a research says about MSG.
Basically, our seasoning contains the ingredients you expect in your seasoning cube.
Our seasoning contains, crayfish, fish, salt, oregano, coriander and some other seeds that do amazing things in your health.
Indeed, everything in it is natural and there is no preservative or sugar.
Also, if you would like to make yours, you can explore too.
---
---
Place your order and we can deliver to you.
WATCH: HOW TO MAKE YOUR IMMUNE BOOSTER AT HOME